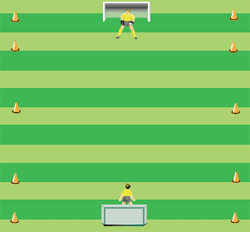 organization
- Play up to 3 points, when other keepers are waiting their turn.
- Ball needs to be played within 3 seconds and within the indicated line. The ball may not be played outside that line. Opponent may play the ball.
- The game continues on the spot at which the ball was processed. Exception!! the ball may not be bounced away on purpose. The ball needs to be secured with both hands, if not possible otherwise.
- When a ball rolls within your area after a save, it will need to be picked up A.S.A.P. Game continues from that spot.
- When a ball rolls into the area of an opponent after a save, you are not allowed to pick up the ball. The opponent needs to pick it up and continue from that spot.
- When the ball goes out of bounds after a save, the opponent will play again.
- With a handball (play ball pass the line, or touching the ball in your opponents area) a penalty will be given to the opponent (from 11 mtr).


Focus:
Improving saves
Phase:
Learning
Players:
2