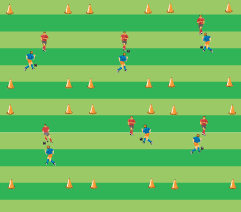 Organization
- 1 versus 1 "league" format.
- Players start 30 yards apart so they have space to run into.
- They've to score in the attacking 3rd, otherwise the opponent can just score from deep without taking on his opponent.
- The goal is relatively big, otherwise the defender would goal hang and the idea of dribbling is not just to beat your opponent but also to crate space. It would otherwise be too difficult and would slow down the players which is unhelpful concerning development and is also very unrealistic.
- Best of 3 goals.
Focus:
Improve 1 versus 1
Phase:
Learning
Players:
12