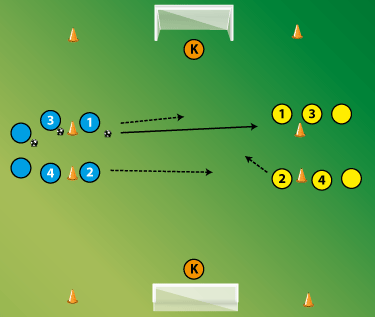 Organization
- We create two teams of 6 players who take place in 2 rows of 3 players on the opposite part of the field
- Player 1 of team 1 has the ball
- He plays the ball to player 1 of the other team (team 2)
- Of both teams, player 2 also enters the field and we start playing 2 versus 2 where both teams can score on both goals (with goalkeepers).
- Team 2 (yellow) has to pass at least once before they are allowed to score
- If a goal is scored, the keeper has the ball or the ball is out of the field, the next players (3 and 4) can start)
- After their play, players return to their starting position where they take place in the other queue.
- We play 3 minutes, after that teams switch side and the other team receives the ball.
- Which teams scores the most goals?
Focus:

Phase:

Players:
12 + 2 kee